Phase 1: SEO, SEM - Google Adwords
If you selected for ThorMarketing to do your SEO some was done during the website creation but more will be done beginning here and now, right after launch we use a platform called Search Console that is a Google product to gauge the "common" keywords being used to organically find the website, if these keywords don't represent you then we put them in a spreadsheet dubbed negative keywords, we do this so when we begin the Google Ads for paid search we can add them as keywords that don't affect the click rate therefore no charge for that click.
1 week after the site is live I suggest doing a Blog Post of about 3-6 paragraphs describing your site in a different content than what is on the website so that Google sees new quality content which is huge in ranking in Google. Then I suggest at least 1 blog post a month to keep content fresh, post topics should include anything related to your business
Phase 2: Social Media Marketing
The goal of SMM is to produce content that users will share with their social network to help a company increase brand exposure and broaden customer reach.
SMM helps a company get direct feedback from customers (and potential customers) while making the company seem more personable. The interactive parts of social media give customers the opportunity to ask questions or voice complaints and feel they are being heard. This aspect of SMM is called social customer relationship management.
If you selected for ThorMarketing to do your Social Media Marketing (SMM), we would of explored in the very beginning what pages you already have active, I would need to be an Advertiser on your pages in order to write Targeted Ads, I DO NOT BOOST POSTS. I always write targeted ads, we sit down with you above and use the targeted keywords above to build a list of Targeted Markets in Social Media based on location with a radius you specify for your market. I only offer Facebook/Instagram Marketing on the Social Media Side.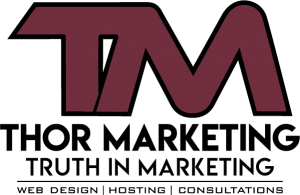 There is no conclusion on a marketing website
A Website through ThorMarketing and Design is a fun process I love what I do and I feel I am a service to each and every client that has shown support of us. If you are happy with our services please Review us below through whichever link you wish to do the review on or both would be awesome!
When renewal time comes I will reach out about 30 days in advance.